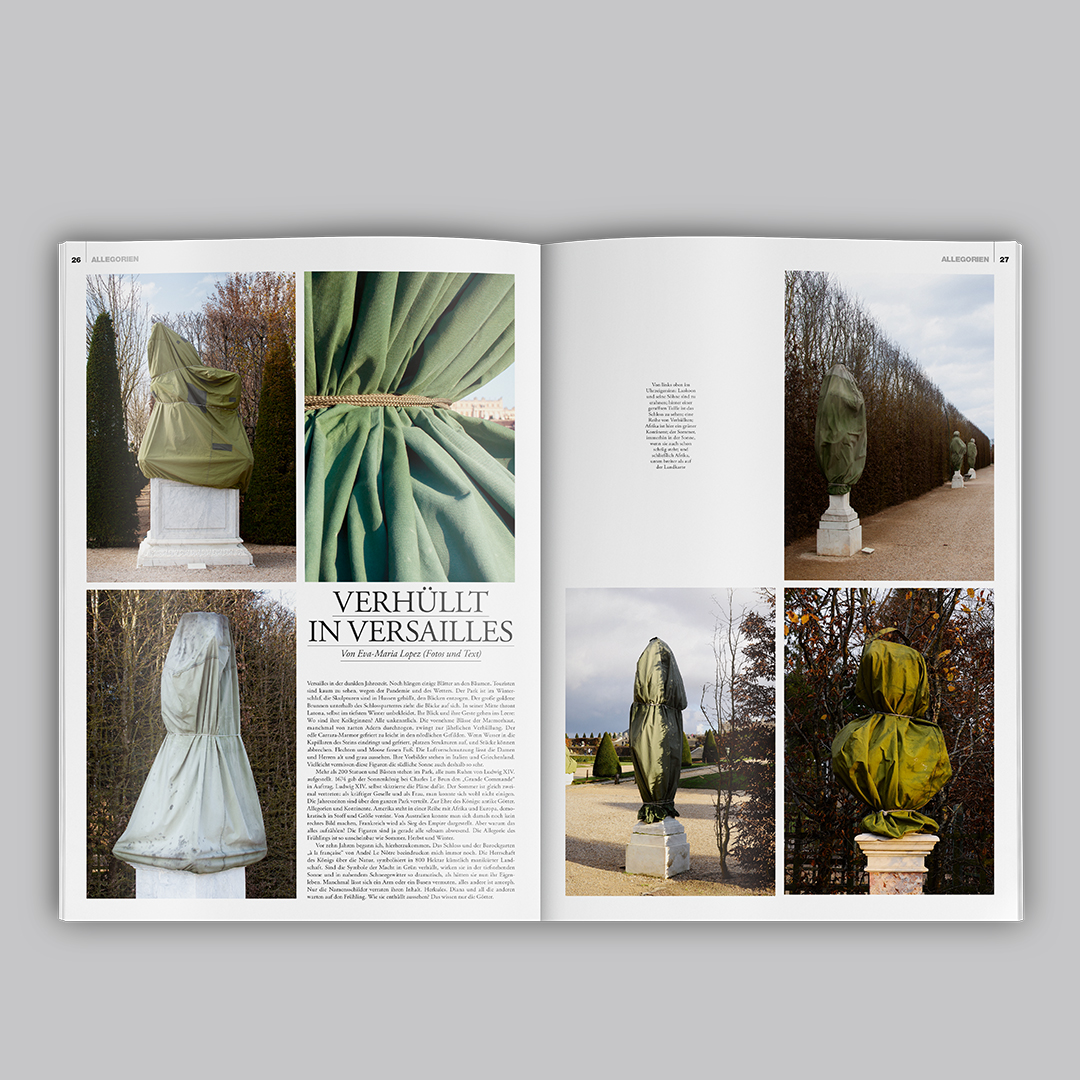 Verhüllt in Versailles | veiled in Versailles | voilé à Versailles - Magazin der Frankfurter Allgemeine Zeitung, 01|2021 Photo serie & story 2010-2020
Verhüllt in Versailles

Magazin der Frankfurter Allgemeine Zeitung, 01|2021
Versailles in der dunklen Jahreszeit. Noch hängen einige Blätter an den Bäumen. Touristen sind kaum zu sehen,wegen der Pandemie und des Wetters. Der Park ist im Winterschlaf, die Skulpturen sind in Hussen gehüllt, den Blicken entzogen. Der große goldene Brunnen unterhalb des Schlossparterres zieht die Blicke auf sich. In seiner Mitte thront Latona, selbst im tiefsten Winter unbekleidet. Ihr Blick und ihre Geste gehen ins Leere ..... weiter
Versailles à la saison sombre. Il y a encore quelques feuilles accrochées aux arbres. On voit peu de touristes, à cause de la pandémie et du temps qu'il fait. Le parc est en hibernation. Les sculptures sont enveloppées dans des housses vertes, cachées à la vue. La grande fontaine dorée sous le parterre du château attire le regard. Latone trône en son centre, dénudée même au plus profond de l'hiver. Son regard et son geste ne vont nulle part ... continuer
Magliasina
poetic jazz original by Frances Knight, featuring photos of the beautiful Magliasina in Ticino by Eva-Maria Lopez.
Saxophone Paul Booth, Piano Frances Knight, bass Alex Keen, drums Jonathan Ward.
CD
Presented in a beautiful all-card booklet, with photos of Eva-Maria Lopez. These mainly original compositions were recorded live one summer's day in a converted chapel in Ramsgate, long before these strange times were even thought of!